NEWS RELEASE
September 4, 2020
Rev. Alan Fogarty, SJ
CEO, Salt + Light Media
As the new CEO, I am thrilled to be joining the wonderful staff at Salt + Light Media and feel blessed to be given the opportunity to serve the Catholic Church in Canada, and indeed the Universal Church, through this unique multimedia endeavour.
The pandemic and ensuing lockdown gave us pause to reflect on what we have taken for granted and question the order of our priorities. The pandemic has also brought into focus much of what Pope Francis teaches us in his encyclical letter,
Laudato Si'
, and in a way, it has led us to consider how we might improve the human condition, protect our common home and remind others of the covenant between humanity and the environment, humanity and God, in a post-pandemic world.
During this difficult time, Salt + Light Media has been creating content and programming that responds to a deep need for spiritual nourishment, community and consolation in the Lord. Salt + Light Media is honoured to have played this far-reaching interactive and pastoral role, and we remain dedicated to continuing our mission of proclaiming Jesus Christ and the joy of the Gospel.
Over the past five years, Salt + Light Media has produced visually rich stories inspired by Pope Francis' encyclical letter,
Laudato Si'
. Moved by both the willingness of people to change their way of life in response to a global pandemic and the need to protect our common home - and each other, I am pleased to share with you that Salt + Light Media will continue to produce compelling and visually stunning stories inspired by
Laudato Si'
that will inform, encourage and challenge us to work toward improving and protecting each other, the vulnerable, the marginalized and our common home as we get closer to the Creator.
I would also like to share with you that we are about to launch new applications on Amazon Fire and Roku Internet connected devices. By downloading our new app on your device, you will be able to subscribe and view our hope-filled TV channel as well as access a library of on-demand content. We are excited to offer our service on these Internet devices, especially to our supporters in the US and other parts of the world. As St. Ignatius of Loyola was known to say, "The more universal the good is, the more is it divine" (Constitutions, VII.2.[622]d).
I humbly, yet urgently, appeal to your generosity as we strive to stay true to our mission during these challenging times. With your financial collaboration, our mission to serve the Catholic community makes you part of the team that creates and broadcasts quality and balanced Catholic content across all of our platforms.
Thank you in advance for your commitment, prayers and generous support.
Yours in Christ,
Rev. Alan Fogarty, SJ
Chief Executive Officer
Salt + Light Media
Salt and Light Catholic Media Foundation is a Canadian registered charity and will issue tax receipts for donations of $20 CAD and up.
To donate from the USA:
Salt and Light Catholic Media USA, Inc., is a section 501(c)(3) not-for-profit charity. In order to donate and receive a US tax receipt (where applicable), or for more information, please visit
saltandlighttvusa.org
.
COMMUNIQUÉ DE PRESSE
4 septembre 2020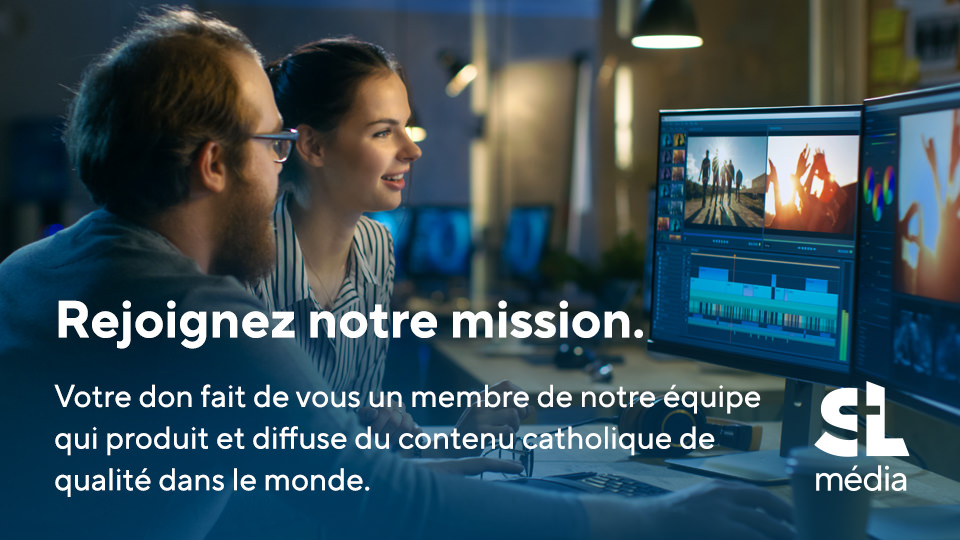 P. Alan Fogarty, sj
Président - directeur général
En tant que nouveau PDG, je suis ravi de me joindre au merveilleux personnel de Sel + Lumière média et je me sens béni de pouvoir servir l'Église catholique au Canada, et l'Église universelle, grâce à cette entreprise multimédia unique.
La pandémie et le confinement qui a suivi nous ont donné une pause pour réfléchir à ce que nous avons pris pour acquis, et remettre en question l'ordre de nos priorités. La pandémie a également mis en lumière une grande partie de ce que le pape François nous enseigne dans sa lettre encyclique,
Laudato Si'
, et d'une certaine manière, elle nous a conduit à réfléchir à la manière dont nous pourrions améliorer la condition humaine, protéger notre maison commune et rappeler aux autres l'alliance entre l'humanité et l'environnement dans un monde post-pandémique.
Pendant cette période difficile, Sel + Lumière média a créé des contenus et des programmes qui répondent à un besoin profond de nourriture spirituelle, de communauté, et de consolation dans le Seigneur. Sel + Lumière média est honorée d'avoir joué ce rôle interactif et pastoral de grande envergure, et nous restons déterminés à poursuivre notre mission d'annoncer Jésus-Christ et la joie de l'Évangile.
Au cours des cinq dernières années, Sel + Lumière média a produit des histoires visuellement riches inspirées de la lettre encyclique du pape François,
Laudato Si'
. Ému par la volonté des gens de changer leur mode de vie en réponse à une pandémie mondiale, ainsi que par la nécessité de protéger notre maison commune, et les uns des autres, je suis heureux de partager avec vous que Sel + Lumière média continuera à produire des histoires visuellement époustouflantes, inspirées de
Laudato Si'
.
Ces histoires nous informeront, nous encourageront, et nous mettront au défi de travailler pour nous améliorer et nous protéger les uns les autres, les vulnérables, les marginalisés, et notre maison commune, à mesure que nous nous rapprochons du Créateur.
Je voudrais également partager avec vous que nous sommes sur le point de lancer de nouvelles applications sur les appareils connectés à internet, Amazon Fire et Roku. En téléchargeant notre nouvelle application sur votre appareil, vous pourrez vous abonner et regarder notre chaîne de télévision pleine d'espoir, et accéder à une bibliothèque de contenu à la demande. Nous sommes ravis d'offrir notre service sur ces appareils internet, en particulier à notre audience aux États-Unis et dans d'autres régions du monde. Comme le disait saint Ignace de Loyola, «Plus le bien est universel, plus il est divin» (Constitutions, VII.2. [622] d).
J'implore humblement, mais de toute urgence, votre générosité alors que nous nous efforçons de rester fidèles à notre mission en ces temps difficiles. Grâce à votre collaboration financière, notre mission de servir la communauté catholique fait de vous une partie de l'équipe qui crée et diffuse un contenu catholique de qualité et équilibré sur toutes nos plateformes.
Merci d'avance pour votre engagement, vos prières et votre généreux soutien.
Vôtre en Christ,
P. Alan Fogarty, sj
Président - directeur général
Sel + Lumière média
Fondation catholique Sel et Lumière média est un organisme de bienfaisance enregistré au Canada et émettra des reçus pour fins d'impôt pour les dons de 20 $ CAN et plus.
Pour donner depuis les États-Unis:
La fondation catholique Sel et Lumière média, Inc, est une organisation caritative à but non lucratif sous section 501(c)(3). Pour donner et recevoir un reçu d'impôt (si possible), et pour plus d'informations, visitez
saltandlighttvusa.org
.
新聞發布
2020年9月4日
Rev. Alan Fogarty, SJ
CEO, Salt + Light Media
作為新任的行政總監,我很高興能與《鹽與光傳媒》優秀的員工們一起工作,並很榮幸有機會通過這獨特的多媒體事業為加拿大教會,及至普世教會服務。
在新冠病毒全球大流行和隨之而來的封鎖,給我們機會停下來思考之前認為理所當然的事情,並對我們的慣性安排重新思考。疫情也使教宗方濟各在他的《願祢受讚頌》(Laudato Si') 通諭中教給我們的很多事情成為焦點,某程度說,它帶領我們我們去思量如何改善人類狀況,保護我們的共同家園,並提醒人們在疫情後的世界中,人類與環境、人類與上主之間的盟約。
在這困難的時期,《鹽與光傳媒》一直堅守在創作節目及內容上去回應大家對主內的靈性滋養、團體培育和安慰的深切需求。《鹽與光傳媒》很榮幸擔當這深遠的互動和福傳角色,我們將繼續致力於宣揚耶穌基督和福音的喜樂。
過去五年,《鹽與光傳媒》創作了在視覺上豐富的故事,這些故事的靈感來自教宗方濟各的《願祢受讚頌》通諭。 人們因全球疫情爆發而改變自己的生活方式,以及有需要保護我們共同的家園及彼此。我很欣慰地與您分享《鹽與光傳媒》將繼續製作引人關注和受到《願祢受讚頌》啟發而令人讚嘆的故事,這些故事將為我們提供幫助、鼓勵和推動大家努力去改善和保護眾人、弱勢社群、邊緣化的群體,與及我們共同的家園,從而讓我們與創造者更加接近。
此外,我還想向您宣布《鹽與光》即將在 Amazon Fire 和 Roku 連接至電視的裝置上啟動新應用程式。通過您的裝置下載我們的應用程式,您將能夠訂閱和觀看這「充滿希望」的電視頻道,以及隨時點播。我們很興奮能在這些網絡設備上向您提供服務,特別是為在美國和世界各地區的支持者。正如聖依納爵‧羅耀拉(St. Ignatius of Loyola) 的一句名言:「愈是普遍的善,愈是神聖。」(耶穌會會憲,VII.2. [622]d條)。
我誠懇而迫切地呼籲您的慷慨解囊,因為我們正努力在這充滿挑戰的時代忠於我們的使命。透過您的經濟扶助,也使您成為《鹽與光》福傳團隊的一部份,這團隊正在我們所有平台上進行優質的創作、廣播製作和不偏不倚的天主教資訊內容。
預先感謝您的成全,祈禱和慷慨的支持。
在主內,
Rev. Alan Fogarty, SJ
霍格提神父, 耶穌會會士
鹽與光天主教傳媒行政總監
鹽與光天主教傳媒機構是加拿大的註冊慈善團體,捐款加幣20元或以上,鹽與光將寄發退稅收據。
從美國捐款:
美國鹽與光天主教傳媒機構是第501(c)(3)條非營利性慈善機構。 更多有關捐助及美國退稅收據(如適用)的信息,請瀏覽:
saltandlighttvusa.org
.